Poulsbo Marina Veterinary Clinic Promotions
Thank you for visiting the Poulsbo Marina Veterinary Clinic website. Check regularly for our latest special promotions for your furry friend. For more information on what specials we offer view below.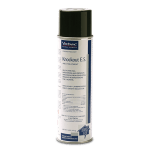 KNOCKOUT™ E.S.

Area Treatment

Effective treatments for eliminating home flea and tick infestations. For best results, use a 3-step defense when treating flea and tick infestations:
Treat the pet
Treat the house
Treat the yard
Inverted aerosol house spray containing pyrethrins and permethrin to kill active flea and tick infestations. Also, contains pyriproxyfen (NYLAR® Insect Growth Regulator) to prevent flea infestations from developing for up to 7 months. One 16 oz can covers 2,100 square feet.
Provides rapid relief from active flea and tick infestations. Contains the highest levels of environmental adulticides in an aerosol for maximum effectiveness and quick killing of fleas and ticks.
Prevents flea and tick infestations for up to 7 months. Prevents reinfestation of fleas by stopping immature fleas from developing into the adult biting stage.
Reaches fleas hidden in carpets, rugs, drapes, upholstery, pet bedding, and floor cracks for greater effectiveness.
No mess. Leaves no unpleasant odor or sticky mess and, when used as directed, does not stain furnishings.
Protect Your Dog and Home from

Fleas and Ticks

Current promotion on all sizes Comfortis. Purchase a 6-month supply and get 1 month free. Purchas a 12-month supply and get 2 doses free.

Call Poulsbo Marina Veterinary Clinic and we'll have it ready for pick-up. Bring your pet with you for an accurate weight check—you are free to use our scales any time!

An excellent choice for dogs that get bathed often or enjoy swimming in our Puget Sound waters.

Comfortis for Dogs comes in a 6 Month pack of chewable, beef flavor tablets for easy administration. It starts killing fleas in 30 minutes and prevents flea infestations on dogs for a full month. Comfortis breaks the flea life cycle and prevents further infestations by eliminating fleas before they are able to lay eggs.

FDA rules require a client/patient relationship within last 12 months. If you are a new client, we can schedule your pet's annual examination at additional discount.

The Fleas Are Here!

Protect your cat with PROGRAM® (lufenuron) and get $10 off with our current promotion.
Call 360-779-4166 to schedule an appointment for our technician to administer the product, and we'll also perform a nail trim at no extra charge.
PROGRAM® (lufenuron) 6 Month Injectable For Cats
The fleas on your cat are in the adult stage. An adult female flea, living on a pet, can lay up to 2,000 eggs in her lifetime. But PROGRAM®(lufenuron) 6 Month Injectable for Cats prevents flea eggs and larvae from developing. This breaks the flea life cycle at its base, and effectively controls the flea population.
How PROGRAM 6 Month Injectable for Cats Works
PROGRAM® 6 Month Injectable for Cats is a remarkable product that provides an entire 6 months of flea control. Just two doses protect your cat all year long. PROGRAM® 6 Month Injectable for Cats contains lufenuron, an insect development inhibitor that prevents the development of immature stages of the flea.
Safe
Over one million doses of PROGRAM® 6 Month Injectable for Cats have been administered. It has undergone testing and is held to high FDA standards (NADA #141-105, approved by FDA), so you know it's safe for your cat. The following side effects may occur in treated cats: injection site reactions, gastrointestinal, inactivity, loss of appetite.
Effective
PROGRAM® 6 Month Injectable for Cats works like birth control for fleas by preventing eggs from developing. It provides extremely effective flea protection. In a university study, from day 14 through the rest of the 6 months, PROGRAM® 6 Month Injectable for Cats demonstrated 97.7% effectiveness. What's more, PROGRAM® 6 Month Injectable for Cats cannot fall off like a collar or be groomed off by your cat like liquid-drop flea control products.